LOW-VOLT, DIRECT-CONNECT, SUPER VALVES – OH MY!
Many things have changed in the preceding 60 years of Central Vacuum history, including many changes to the Central Vacuum hose and inlet valves that have made for more convenient and reliable cleaning systems. While in the early days central vacuum hoses were nothing more than an elongated version o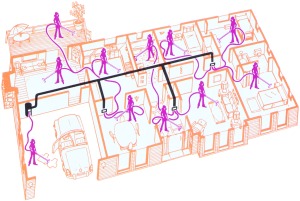 f the portable vacuum's hose, the modern day CV hose assembly is designed for the unique task of central cleaning. Inlet valves too have progressed from dumb wall plates to automatic connections with integrated wiring and leak proof doors.
It was perhaps the addition of an electric power brush that moved central vacuum systems to the mainstream, but without advances in the CV hose, the power brushed central vacuum system would not have been possible. To know our hoses better, it is necessary to understand the central vacuum inlet wall valve. There are two basic styles of wall valve available now for CV systems with two major brands in the market place, Vaculine & Hayden. Vaculine and Hayden are the largest brands of CVS inlets sold in the world. Aspria Systems offers both the Vaculine and Hayden brand inlets in many colors and most every style available.
Universal inlets are also called Low-Volt, Pig-Tail or Corded Inlet. This is by far the most common valve in use for central cleaning systems over the last 30 years. This type of inlet is rectangular in overall shape, measured at 3″ wide by 5″ tall. The inlet door is spring mounted to the plate and usually is square or round in shape or may be a new style full-door. Once you open the door of the valve the hose inlet is measured at 1.5″ inside diameter (or just slightly larger) which tapers down to about 1.4″ in the back. This taper keeps the hose firmly in place while you clean.
Inside the inlet opening where the hose is inserted you will see two pins protruding either up or down depending on installation orientation. These pins are spring mounted and connect to the low voltage signal wires. When you insert the hose into the inlet, the connector pins touch metal plates on the hose end and signal the central vacuum motor to start. The low voltage signal wires connect to the inlet valve by small screws on the back of the inlet.
The Universal CV inlet will mount to the CV mounting bracket (another installation component that mounts behind the wall) with two screws that go through the inlet plate and secure into the mounting bracket which are set approximately 3 7/8″ apart vertically.
Universal hose inlets can be used with no-volt, low-volt and dual voltage universal (corded) hoses. Direct Connect dual-volt hoses will not fit into Universal Hose Inlets.
Developed in the 90's, the Direct Connect valve is similar to the Universal inlet in overall size and diameter of the hose connection. Also referred to as a One-Step, Dual-Volt or Powered Inlet, the Direct Connect wall valve is offered in two configurations. From Hayden the direct connect inlet is called a Super Valve, and from Vaculine the direct connect inlets is called the ElectraValve. Both brands offer many colors and the Hayden Supervalve is offered in three door styles: square door 1760 series, full door vertical open 2060 series, full door horizontal open 2070 series.
Both Hayden SuperValve and Vaculine ElectraValve operate & function in the same manner, the difference is how the high voltage wire is installed to the inlet – see item details for more information. All direct connect inlets from Aspria Systems use a spring mounted full door to conceal the hose connection, contacts and mounting screws.
Direct Connect was invented to eliminate the extra cord required to deliver high voltage to the motorized power brush used to clean carpeted surfaces. Universal valves used a short 6′ – 8′ jumper cord at the end of the hose (often called a Pig-Tail) to get power into the hose and delivered to the power nozzle. The Direct Connection valve is exactly that; it connects 120 Volts directly to the hose trough a 2 pin mini receptacle. Often called One-Step, direct connect valves require you to only plug in your vacuum hose to make all three connections at once; Suction, Low-Voltage Signal & High-Voltage for the power brush.
Direct Connect hose inlets are designed to be used with Direct Connect powered hoses. They can also be used with other hose styles including low-volt, no-volt and universal powered hose however Direct Connect inlets does not include the hose alignment tabs that would prevent a non-direct connect hose from turning inside the inlet while in use which could interfere with operation of the on/off low-volt switch on the hose.
Today there are 4 basic styles of central vacuum hose mostly differentiated by they way they connect to the valve and control the central vacuum system. Some hoses are high performance, ultra-flexible versions of their old cousins, and others are fully electric with controls for all vacuum functions.
Air Only (No-Volt) Hose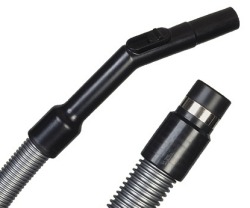 While once the only style of hose, the No Volt non-electric hose is now used most often for utility use, usually in car care or garage cleaning kits. This type of hose is generally made by multi-layer extrusion for quality hose or blow-molded for low quality based on application; used inside the home or used in the garage. Generally the wall-end hose cuff has a solid metal band that connects the low voltage contacts and starts the CV power unit when inserted into the wall valve. To stop the CV power unit you must unplug the hose from the wall valve. This type of hose is good for utility cleaning (above the floor) and cleaning of hard floors. No-Volt hoses do not carry electricity to the tool nor does it offer a power unit control switch on the grip. Lightweight and low cost, the non-electric hose is great for utility cleaning and hard floor areas including cars and the garage.
Low-Volt (Switched) Hose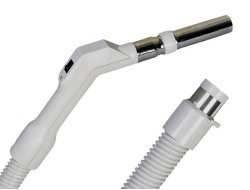 Similar to the Zero-Volt, the Low-Volt hose is used when cleaning with straight suction tools such as hard floor brushes, turbo nozzles and above the floor attachments. The advantage of using low-volt is control of your central vacuum power unit (suction) is now available at the grip you use to hold the hose while you clean and you need not return to the valve to start or stop the unit. The low-volt hose offered by Aspria Systems in our MULTI and TURBO kits is manufactured by Plastiflex and uses a standard cuff that will fit most all wall inlet plates. The hose body is a softer, more flexible vinyl molded over the low-volt wires and features a swivel connector at the grip to keep the hose tangle free.
Dual-Volt Hose – Universal (corded) Connect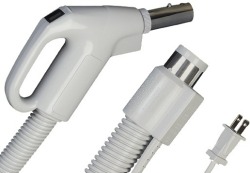 Similar in design to the low-volt hose, the Dual volt hose transmits both low voltage signal wires and high voltage power wires for the electric brush. All four wires terminate inside the hose grip where you can control both the power unit (suction) and power brush (power roller). The corded connect hose uses a universal hose cuff at the wall end that fits most wall inlet plates and features a 7 foot pig-tail (short cord) that you plug into a standard wall outlet near-by. Our Dual-Volt hoses are also manufactured by Plastiflex featuring the crush proof hose body and new style gas-pump grip with 3-position switch.
Dual-Volt Hose – Direct Connect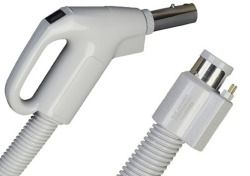 Designed to work with all Direct Connection (a.k.a Super-Valve, One-Step, Electra-Valve and dual-volt) inlets manufactured by Hayden, Vaculine and private labeled to most others including Hoover, Eureka, Beam and Nutone. With an identical hose body and new gas-pump style grip, the difference in this hose is the special connector on the wall end cuff that plugs directly into the special direct connect wall inlet.
The ultimate in convenience, the direct connect system is simple to use and extremely reliable. Direct connection eliminates the need to plug the hose pig-tail into a nearby electrical outlet – making the vacuum system plug and play. Getting rid of the pig-tail cord is not only more convenient, but also eliminates an unnecessary part from the system.
Which Hose Do I Need?
If you are replacing a current attachment set you will most likely want to stick with a similar hose or upgrade from a non-electric or low-volt hose to a new dual volt hose. If changing your system from an older non-electric tool set to a new power brush first check to make sure the new hose will plug into your old valve, then make sure you have a standard 120V electrical somewhere within 6 feet of your CVS inlet to supply power to your new attachment kit.
Upgrading from standard valves to the newer direct connection valves is generally not recommended, that is unless you don't mind removing your old valves (and usually some wall in the process) and wire ROMEX power cable to each inlet. Upgrading may however be a great choice if you are remodeling your home and will have the walls open in the process.
When choosing a kit for a new installation we have the following recommendations: If it is new construction and the you intend to have any carpeting or area rugs you should consider a quality direct connect attachment kit. Even if you are not installing carpet in your home during building the small cost to add direct connect will be well appreciated if you should add carpet later or the cleaning load should change with the addition of children and inside pets. If you are installing a retrofit (existing home, new CVS install) most use Universal connect valves to avoid running the 120V ROMEX cable that may require the use of a certified electrician. If you feel comfortable with high-voltage wiring, the small extra work to retrofit a direct connection system into your home will be rewarded for years each time you use your Central Vacuum System – and after all, convenience is what CVS is all about!
Which Aspria CVS Attachment Kit Is Best For Me?
Aspria Systems offers many attachment kits in both Direct Connection and Universal Connection. We stock non-powered kits which are best for homes with hard floors and turbo kits for those homes with some rugs or carpeting.
If your home has installed wall-to-wall carpeting, it is best to select a fully powered kit. Our attachment kits can best be selected just as the CVS Power units, selecting by type of flooring and size of the home to be cleaned. The more carpeting and larger the home, the better attachment kit you will need for increased cleaning and reliability. The Aspria Brand kits have been rated an outstanding product by homeowners and home builders, prized for the all surface cleaning power.