LOW-VOLT, DIRECT-CONNECT, SUPER VALVES – OH MY!
Many things have changed in the preceding 60 years of Central Vacuum history, including many changes to the Central Vacuum hose and inlet valves that have made for more convenient and reliable cleaning systems. While in the early days central vacuum hoses were nothing more than an elongated version o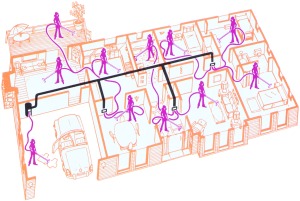 f the portable vacuum's hose, the modern day CV hose assembly is designed for the unique task of central cleaning. Inlet valves too have progressed from dumb wall plates to automatic connections with integrated wiring and leak proof doors.
It was perhaps the addition of an electric power brush that moved central vacuum systems to the mainstream, but without advances in the CV hose, the power brushed central vacuum system would not have been possible. To know our hoses better, it is necessary to understand the central vacuum inlet wall valve. There are two basic styles of wall valve available now for CV systems with two major brands in the market place, Vaculine & Hayden. Vaculine and Hayden are the largest brands of CVS inlets sold in the world. Aspria Systems offers both the Vaculine and Hayden brand inlets in many colors and most every style available.