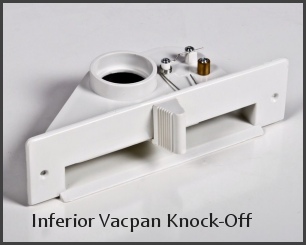 The Vacpan sweep inlet is the original under the counter toe-kick area mounted inlet designed for sweeping into with a broom for fast cleanups in high traffic areas like a kitchen or mudroom. The Vacpan added a level of function never before available in central cleaning system which up until that time had only been usable with the conventional wall inlet and hose. Since it's introduction in the early 90's there have been many other types of sweep-inlet designed in a similar style using different function, all of which had respected the research and patent of the original Vacpan.
As the patent restrictions for the original Vacpan have since expired (and even since before they expired) the Vacpan has experienced a resurgence of popularity. Even the term "Vacpan" has become generic to mean a "sweep inlet" and most of the sweep inlets sold are commonly called Vacpan, though "Vacpan" is an actual brand name and product. The sweep inlet pictured atop this article is not the original Vacpan, despite being labeled as "vacpan" on the website selling it. This is a (low quality) copy of the original – not an actual Vacpan Brand.
When we called the company offering this knock-off sweep inlet and asked if it was a true Vacpan they admitted it was not an actual Vacpan brand sweep inlet. Though the company did label the sweep-inlet a "Vacpan" on their website and they continued to ask the same price as and original Vacpan inlet, which feels confusing. And when asked why they did not sell the original they told us "it doesn't matter, they are all the same".