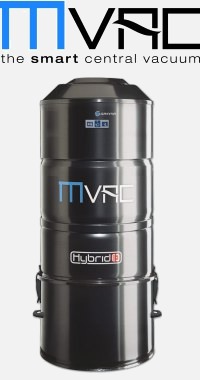 The complete line of MVAC Optimum central vacuum power units are now available from Vacdepot. The MVAC models have been the exclusive brand of Les Industries Trovac Ltée in Canada. Trovac manufactures many brands, including others available in Canada and the US. MVAC is produced in Canada since 1982 at the Trovac manufacturing facility and has three series of models including the Optimum Series featuring all metal bodies and high performance motors, the Evolution Series with ABS plastic bodies and high efficiency motors, and the HD Series of commercial central vacuum units with multiple configurations of motor and collection systems. Trovac is the largest central vacuum production facility in Canada and currently sells central vacuums in North America and Europe with distribution points in Quebec Canada, Missouri USA and Treffieux France.
MVAC central vacuums are renowned for their high reliability and innovations. The power units are equipped with leading edge technology that make them high performance, durable and very quiet to operate. Vacdepot is excited to be offering the MVAC Optimum and MVAC HD lines of power unit which provide a very diverse selection of equipment suitable for applications from condo's and RV's, larger homes with Hide-A-Hose systems and high volume commercial applications including office buildings, vet clinics, light manufacturing and retail spaces.
MVAC central vacuums have many exciting features including single 120V motor systems with 700 Max Airwatts, high efficiency top-fill dedicated disposable bag power units, Hybrid collection bottom fill units and user selectable series or parallel motor systems in the HD series power units. Remarkable features, solid quality equipment and a highly reliable and trusted company with outstanding support.