Vacuuming hard floors covered with randomly scattered mounds of pet hair – good for cardio fitness, hard on your back. Follow along with these familiar steps: vacuum a room, stoop to pull off the hair clogged floor brush, vacuum clumps of hair off the clogged floor brush, twist the floor brush back on the wand. Vacuum the next area and repeat.
This exercise gets tedious fast.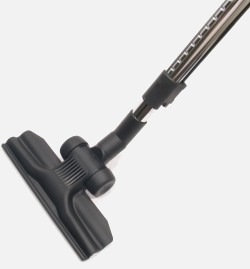 I would rather enjoy the vacuuming experience. (We can do aerobics later.) How nice it would be to smoothly glide through rooms, realizing a cleaning task efficiently completed.  The hindrance? The floor tool's bristles. They clog quickly with oily dog fur, preventing hair and dirt from reaching the vacuum's air stream and getting sucked up. The answer? Remove the bristles, add some wheels.
The new tool becomes a powerful nozzle sans brushroll. It directly pulls dirt into its opening and away into the vacuum, whether it's used on hard floors or carpeting. Yes, even on carpets. Although a turbine brush or electric powerbrush nozzle is still recommended to beat embedded dirt out of carpeting, this new tool can easily lift off spots of surface dirt from area rugs. This ability comes in handy. Any fur stuck to the edge of an area rug is quickly sucked up with the same tool, while vacuuming the hard floors.